Women just can't resist a man on a motorcycle. We decided to find out why. maybe it's time to update that to "tall, dark and handsome—and on a Harley."
1. Guys With Bikes Are Risk Takers
Source: crazythemes.com
2. Women Love To Show Up At a Party on A Roaring Harley Rather Than a Boring Honda City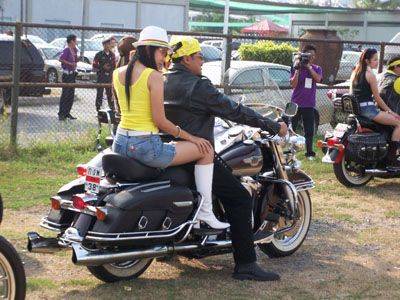 Source: photobucket.com
3. A Guy on A Bike is Way More Spontaneous & Takes Decisions in a Snap
4. Women Love The Bad Boy Biker Look.. Intense Looks & A Brawny Stubble
Source: leojpeo.blogspot.com
5. Road Trips are 10 Times More Fun With a Bike
Source: thrillophilia.com
6. While Taking a Joy Ride At Night, Women Love the Breeze in Their Hair; Kinda Hard to Experience in An AC Car
7. All Her Girl Friends Are Going to Be So Jealous When They Find Out She's Dating a Biker!
source: dailymail.co.uk
8. A Guy With a Bike is Super Handy in The House..He Knows His Way Arounds Tools and Can Fix Anything
Source: tumblr.com
9. Other Guys Want to Be Him and Are Secretly Jealous!
Source: gossipmonk.com
10. A Guy With a Bike Always Comes With a Great Pair of Jeans, Shades & a Killer Leather Jacket
source: caberz.files.wordpress.com
Add a Comment
comments