On this day, 42 years ago, the god of cricket was born!

Sachin Ramesh Tendulkar is widely regarded as the Greatest Batsman in the history of cricket. Blessed with superhuman ability and limitless talent, he has firmly secured his place in the Pantheon of sporting greats. But for us Indians, he is much more than just an ordinary cricketer. He is the God of Cricket. Here are 15 reasons why.

1. At the age of 16 years and 205 days, Sachin was the youngest cricketer to play an International match for India.

Source
2. Sachin's Straight Drive is like a lightning bolt from the sky

Source
3. Sudhir Kumar Chaudhary, Sachin's lifelong devotee has attended every home match of the Indian cricket team since 2003. Who has such following?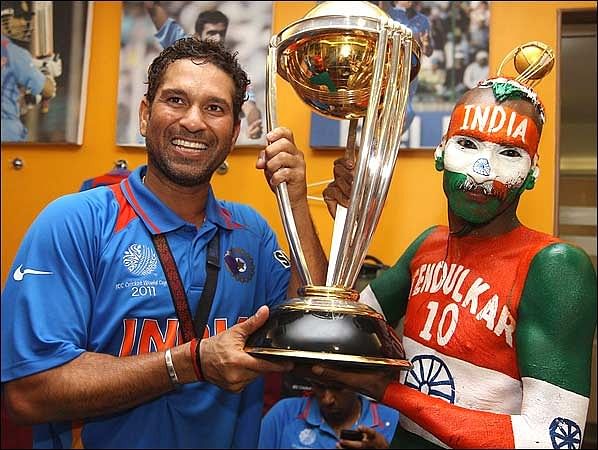 Source
4. Sachin's technique when he smashes sixes all over the park is a sight to behold!
5. "I have seen God, he bats at number 4 for India"—Australia's Matthew Hayden describing Tendulkar

Source
6. Even the Rawalpindi Express Shoaib Akhtar wasn't spared.

Source
7. Shane Warne after Sachin's memorable innings vs Australia in Sharjah 1998– "I'll be going to bed having nightmares of Sachin just running down the wicket and belting me back over the head for six. Sure thing Warney! You asked for it!
8. Tendulkar's wizardry wasn't just restricted to his batting. He was known as the "Man with the Golden Arm" and ended up with almost 200 wickets against his name!

Source
9. Sachin is the first and only Sportsperson to be conferred India's highest civilian award—the Bharat Ratna.

Source
10. Sachin Tendulkar was the first person in history to score a double century in One Day International cricket

Source
11. Special postage stamps have been released in honour of Sachin's exceptional contribution to Indian sports

Source
12. His retirement speech made a billion Indians cry
In short, there was and always will be just one god of cricket. Happy Birthday, Sachin Ramesh Tendulkar.
Add a Comment
comments