You have been withstanding the wrath of Delhi's extreme weather, you have mastered the Dilli slang, you know where to shop, you are a true Delhi Wala at heart. You don't find a single flaw because you are a true Delhiite.

1. You Are Accustomed To The Unpredictable Weather Of Delhi

You are always ready for the scorching heat of Delhi summers; you know you will be swimming your way to work in Delhi monsoon and you know how to turn Delhi's winter into an opportunity to go on a shopping spree.
2. The Price Is Never Right
Accoring to you the price is never right, whether shopping at sarojini or Janpath. Quote an amount halfway, if the shop wala refuses just move on to the next shop and you will get your goody for the price you were ready to pay. Every Dilli wala has mastered this art. The Art of bargaining!
3. Hinglish All The Way
We don't suffer from language crisis, We speak "Hinglish". One language is not enough, neither Hindi nor English.
4. Street Food
Street Food is Delhi's lifeline. You can never get enough of all the Chaat, Dahi Bhalla Papdi, Golgappe and Aloo Tikki and an assorted range of heavenly street food.
5. Delhi Wali Slang
You can look like a Mumbaikar, Banglorean or a Punekar but you will always sound like a Delhiite. The way you speak will always give you away.
5. The Jugaadu Delhi Wala
You know every possible jugaad there is to know. Delhiites know the fix for every issue, from repairing broken pipes to broken relationships, literally everything.
6. Mera Baap Kaun Hain
You have heard this like a million times. Someone pranged your car and the only thing you could hear is "Tu jaanta nahi mera baap kaun hain" and you are now only interested in knowing if his or her dad is a car mechanic.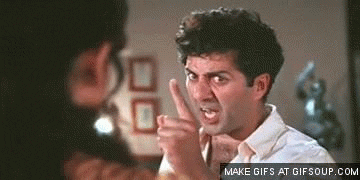 8. You Know Where To Shop
You know every nook and corner of Delhi. You know that Paharganj is for leather, Nai Sarak is for books, Chandni Chowk is for embroidered bags and silk garments and Sarojini is for clothes. You know all the best deals in city like the back of your hand.
9. Where Can I Get Kadak Maal?
Just when you are looking for some grass, you know exactly where to go. Ahem Ahem. (If you don't, comment, we'll enlighten you!)
10. She's Hot, Is This South Delhi?
Just like how you can tell the time by watching the sun. You just need to analyse a nearby crowd and you will know exactly where you are standing.
11. Metro Train Is The Last Resort
Having car trouble or bike is out of fuel, not to worry, we always have the Metro to our rescue!
12. Delhi Versus Other Cities
You are always ready to set ablaze the stage when stuck in a 'Delhi versus other cities' debate to enlighten others of the virtues of Delhi.
Are you a Delhiite? Do you think Delhi is the best among all the cities in India, if yes, comment and tell us the reason!
Add a Comment
comments