Rajasthan being a state of colors and vibrance offers a variety of food. Their lip-smacking dishes can make anyone drool with just the aroma and appearance. We present you dishes from the heart of Rajasthan to lure you to visit the state soon.

1. Macchili Jaisamandi

Tender fish fried crispy, simmered and cooked with spicy flavours and cream.
2. Dal Baati Churma
Rajasthani food is incomplete without Dal-Baati-Churma. It consists of baatis or flaky round breads baked over firewood or over kandas(cow dung).
3. Kairi Curry with Khoba Roti
Tangy mango curry teamed with the traditional Rajasthani khoba roti.The combination of spices and sourness is just mouth-watering.
4. Rajasthani Mirchi Vada
This street food is also known as Jodhpuri Mirchi Vada. It is a deep fried snack stuffed with spicy potato filling and green peppers. Best served with tomato chutney.
5. Safed Maas
Tender chicken cooked in a delighting combination of Indian Spices and a generous helping of
cream, milk, curd and cashew nuts.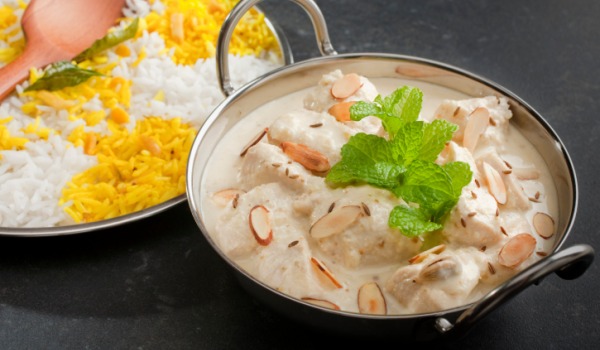 6. Aamras ki Kadhi
Fresh mango pulp is nicely blended with buttermilk and besan, topped with boondi and fried of Indian spices.
7. Gatte ki Sabzi
Gram flour pakoras flavoured with dry masalas, steamed and then dunked into a yoghurt based curry. It is best enjoyed with steamed rice or puris. It is a traditional Rajasthani dish.
8. Laal Maas
This is a traditional Rajasthani dish and it can be made as hot and spicy as you like. It gets its color from the chillies used to cook it. It tastes best when served with Bajra Roti.
9. Banjari Gosht
The aromatic combination of juicy mutton pieces marinated in garlic, red chillies, turmeric and coriander.
10. Ker Sangri ki Sabzi
The delectable combination of beans and berry made in desi masalas.
11. Gatte ki Khichdi
Gatte ki khichdi is a vegetarian pulao which is a speciality of Jodhpur. It is prepared with selected spices and ingredients.
12. Ghewar
Ghewar is a honey comb dessert from the Rajasthani cuisine. It is mainly prepared during the festival season.
13. Balushahi
Delectable sweets resembling glazed doughnut by the dozen!
14. Besan-Chakki
This divine mithai is also known as Mohanthal. It is traditionally made with coarsely ground besan.
15. Dhungari Hui Chaach
It is a lightly spiced buttermilk that is supposed to be an excellent means of keeping the stomach cool during the scorching hot Rajasthani winds.
So, next time you visit Rajasthan don't forget to try these drool worthy delicacies.
Add a Comment
comments