If you are a food lover then you must plan a trip to Hyderabad. Relish its rich and incomparable cuisine filled with a distinct aroma which is unique to the city.
Here is a list of famous local dishes and best places to find them in Hyderabad. You absolutely must try these to achieve food-gasm!
1. Biryani
Where: Hyderabad House
Biryani is the first thing that comes to mind whenever anyone mentions Hyderabad. Hyderabadi Biryani is not only the most popular local dish but is a non-vegetarian's dream-come-true. It is prepared in a unique style as practised by the Nizams and has a distinct aroma.
Source: Pushdeals
2. Mirchi Ka Salan
Where: Sahib Sindh Sultan
The hot-pungent taste of Mirchi ka Salan will make for an edgy experience unlike any other. The Spicy flavour of green chillies is balanced with the tine coconut paste which gives it great texture and a taste to die for!
Source: Sinfully spicy
3. Haleem
Where: Pista House
This seasonal delicacy is a porridge made from wheat and meat and topped with dry fruits and is cooked for several hours (often a whole day)
Source: Flickr
4. Keema Samosa
Where: Venkys Xprs
Samosa + Keema = Unbeatable combination! India's favourite snack paired up with Hyderabad's speciality, the combo formed is a true foodie's delight!
5. Nihari
Where: Shadab Hotel
Nihari is a popular breakfast dish made of Goat's feet and is mostly enjoyed during winters.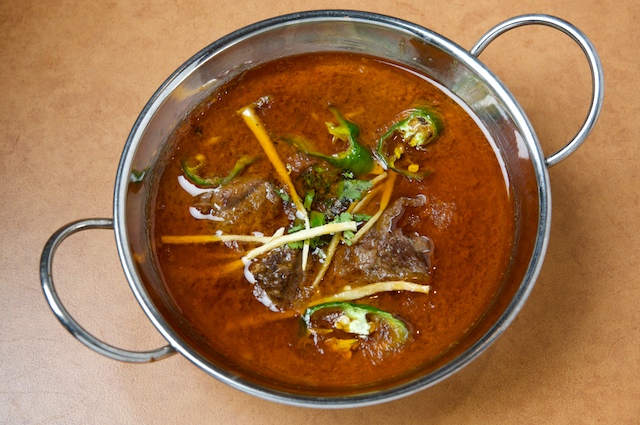 6. Patthar Gosht
Where: Bade Miyan Kababs
Meat marinated overnight slow-cooked on slabs of stone, heated by charcoal fires underneath. Sheer bliss this one!
Source: Deccan chronicle
7. Khatti Dal
Where: La Makaan
This yellow lentils based based stew uses tamarind for its different flavour. It is finished with a 'chaunk' of desi ghee, bay leaves and some whole red chillies!
Source: Merarasioghar
8. Chakna
Where: Shadab Hotel
The tender meat with aromas of cinnamon and cardamom is will definitely leave you asking for more!
Source: Youtube
9. Gosht Pasinde
Where: Hyderabad house
This classical Hyderabad dish is made from meat, potatoes, beans and loads of pungent spices thrown in. It remains tasty till the last bite. Its creamy texture and incredible taste will leave you totally satisfied.
Source: odd pad
10. Luqmi
Where: Atiroopa – Alankrita Resort
True blue Hyderabadi snack. These are little pockets of maida filled with minced meat. Light and tastes amazing!
Source: Kitchen Sojourn
11. Mutton Korma
Where: Bidri
One of the most popular and special dishes that is always included in wedding or other special meal menu in the city. It is cooked with interesting spices such as poppy seed, cashew nuts, lavang, coconut, peanut in form of paste which add a distinct flavour and aroma to the dish.
Source:; Bawarchi
Source:
12. Kachche Gosht Ki Biryani
Where: Hyderabad House
This biryani is as unique as its name. Cooked with raw meat, it is fragrant and succulent in taste. The aroma is enough to keep you hooked but once you taste it, there is no going back.
Source: Aisha Saeed
13. Double Ka Meetha
Where: Sarvi Restaurant
Made with bread and cream, it is the most sumptuous dessert you'll have ever tasted. Its rich taste will transport you to the era of the royals and nawabs. The best part is that it tastes equally delicious when served hot or cold.
Source: Imagearacde
14. Sheer Khurma
Where: Hotel Shadab
This dessert is prepared from vermicelli, whole milk, dates, sugar. Also, cardamom, pistachios, almonds, saffron, raisins, rose water are added for flavour and aroma.
Source: Beautystylo
15. Qubani ka Meetha
Where: Astoria Restaurant
This delectable dessert is made from dried apricots. The apricots are boiled until of a thick consistency and later custard, ice cream or malai is added for a garnishing. Sweet teeth anyone?
Source: Vegrecipiesofindia Cover Image Source
Do let us know if we missed your favourite dish, in the comments below!
Add a Comment
comments