We've been playing fifa since superman goals were possible, balls could explode and goals could literally have been scored from anywhere on the pitch. FIFA99 to FIFA15 – we've seen it all, and can pretty much recall the gameplay of every edition. Here are some pretty indicative signs that you're addicted to playing the beautiful game on your gaming consoles!
1. When A Big Transfer Happens, You Can't Wait To Make It On FIFA and Play With The Updated Team

Source
2. You Hardly Ever Miss a Freekick
And you feel like you have a secret trick to get it in all the time. AND you're always asking others for their remote to take the freekick.
"Let me take it for you? PLEASE"

Source
3. You Make It Your Life's Mission To Get The Latest Edition of The Game On Launch Date
And the launch date is a BIG BIG day on your calendar!

Source
4. Girls Or FIFA? … No Shit!

Source
5. FIFA Takes Arguments With Your Friends To Another Level.
You: Dude, I beat you 4-1 last time. So suck it.
Friend: Achha, what about when I kicked your ass at your place? Fuck off.

Source
6. In All Probability, You Don't Know Who These Guys Are, But You Know Their Names!
It's Martin Tyler and Alan Smith(L-R)- your loyal commentators!
7. You Enjoy Playing FIFA As Much or Even More Than Real Football
You can play FIFA all day long! And sometimes, even ditch real football for it…

Source
8. You Think You Have Some Tricks Up Your Sleeve That No One Else Knows About.
Make Bale shoot from a particular angle and the ball will end up in the net. You do this 8 out of 10 times and you feel like its you're Intellectual Property.

Source
9. You Get Infuriated If You Lose More Than 2 Games In A Row
Face it. Your friend defeats you 2 games consecutively and you're so frustrated you could break his face! And you start looking like this.
And even worse is when you ask for a rematch and he says no!

Source
10. You Have Your Own Custom Formation and Team Tactics That You Think Are The BEST.
And you can chose your formation and tactics without even looking at the screen!


Source
11. You Know Your Favourite Players' Stats By Heart
And speed is the top criteria to make your first team!

Source
12. You Definitely Have A Custom Team With The Best Footballers In It.
And you've completed career mode!

Source
13. You Have Been Through This At Least Once
Let's not get into what you wanted to do when she snatched it! 😉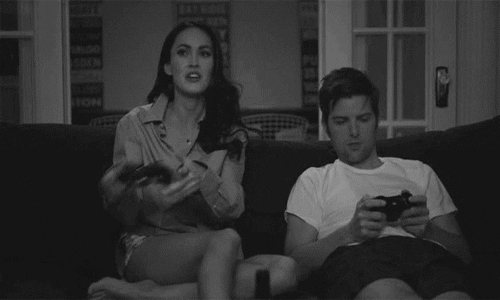 Source
14. You Start Using FIFA Language While Playing Actual Football
Did you see my pass? It was like an LI+Δ
Dude, kya goal maara aaj maine. Ek dum R1+O type.

Source
15. The Left Joystick Of Your Controller Is Perpetually Lose
You Know Why!
And your fingers move like this!


Source
16. You Know All The Fancy Celebrations and Tricks

Source
17. You Know What The Commentators Are Going To Say Before They Say It
"And it leads to this shot"
"Still Danger"
"How's he cut that out? Wonderful Play"

Source
18. In Short- You don't Consider Anyone a Better Player Than Yourself!

Source
Add a Comment
comments