Get away from all the rustle bustle of this tedious life, into the wilderness, closer to nature. With minimalistic packing and a carefree sight just set your feet onto the trips we have listed. They ought to inspire you, relieve your stress and unpack the love in your hearts. No elaborate planning is required, just go with the flow, let nature be your guide (Still, Don't forget google maps!)

1. Chennai to Yelagiri
Distance: 228 km
Time taken: 4 hours
Travel Advice: Escape to the past colonial retreat – Yelagiri – to beat the city heat. This charming little town with hairpin bends is heaven for bikers. Popular for some of the best trekking trails through thick reserve forests across India, the hills are a true delight to the trekker.
Take the Pollamani Road out of the town to reach Pollamani Town. From Pollamani, take the Bangalore Highway to reach Vellore, which is 140 km from Chennai. From Vellore, continue towards Vaniyabadi and keep a lookout for the signboard pointing to Yelagiri. Take that road, cross Ponneri in between and reach Yelagiri Hills, about 22 km away.
Travel Tip: Beware of falling rocks during monsoon.

Source
2. Jaipur to Jaisalmer
Distance: 570 km
Time taken: 9 hours
Travel Advice: Drive on highways as smooth as butter and watch desert life pass by. The route from Jaipur to Jaisalmer is dotted with small villages and towns that will welcome you with open arms.
Route: Jaipur – Merta Road – Jodhpur – Mathaniya – Osiyan – Phalodi – Ramdevra – Pokaran – Lathi – Jaisalmer
Travel tip: Do make a pit stop at Kumbalgarh to visit the Kumbalgarh Fort and the Kumbalgarh Wildlife Sanctuary

Source
3. Mumbai to Goa
Distance: 615 km
Time taken: 10 hours
Travel Advice: Travel the scenic route from Mumbai to Goa amidst seas and lush greeneries. The most popular beach destination of India is well-connected to Mumbai by air, road and railways. The places covered during the journey are Pune, Satara, Kohlapur, Belgaum, Bail Hongal, Dharwad, Goa. Petrol Pumps of HP and India Oil and several small food joints and restaurants are present en route. Catch the NH 17 and its one beautiful road right up to Goa!
Travel tip: The roads are beautiful. All you do is look out of the window and be amazed.

Source
4. Bangalore to Coorg
Distance: 260 km
Time taken: 5 hours
Travel Advice: Drive to the 'Scotland of India' – Coorg for its amazing local food joints serving the most delicious masala dosas and Maddur vada. Driving through the winding Western Ghats hugging the coffee plantations and the rough terrain indicates an adventurous yet peaceful holiday ahead.
Route: Bangalore – Bidadi – Ramanagaram – Chennapatna – Maddur – Mandya – Srirangapatna – Mysore – Yelwal – Hunsur – Kempalapura – Piriyapatna – Bylakuppe – Kushalnagara – Suntikoppa – Madikeri, Coorg
Travel Tip: Avoid entering Mysore City and escape the traffic by taking a bypass from Srirangapatna. Barring a 30-km stretch, just before reaching Coorg and the bypass, the road is in excellent condition.

Source
5. Kolkata to Kumaon
Distance: 1,300 km
Time taken: 4 days
Travel Advice: This road trip is convenient for all age groups as there are pumps and restaurants at regular intervals, the roads are great and the trip will give you a chance to discover varied destinations, right from the ghats of Varanasi to the foodie delights of Kanpur.
Route: Kolkata – Durgapur – Varanasi – Allahabad – Kanpur – Pilibhit – Kumaon.
Travel tip: If you plan to explore Binsar on the way, drive down from Almora towards Binsar where you will find a German Bakery on the main road. It serves delicious pizzas and 'thukpa'

Source
6. Mumbai to Mount Abu
Distance: 745 km
Time taken: 12 hours
Travel Advice: When tired with a dull life, getaway from the city and seek comfort in the hills of Mount Abu. Summers are pleasant in Mount Abu and a boat ride on Nakki Lake is all you need to relax.
Route: Mumbai – Palghar – Dahanu – Vapi – Valsad – Bharuch – Vadodara – Nadiad – Ahmedabad – Himmatnagar – Abu Road – Mount Abu
Travel tip: NH8 is a preferred route. There are several filling stations and dhabas en route.


Source
7. Guwahati to Tawang
Distance: 480 km
Time taken: 9 hours
Travel Advice: The route takes you to travel gems, which are highly underrated such as Cherrapunji, Imphal and Kaziranga. Start from Guwahati via Bomdilla to reach our destination Tawang
Travel tip: While returning, you can halt at Bhalukpong, which is a good option for a pit stop. On the route there are number of roadside stalls that offer tea, momos and Maggi.

Source
8. Ahmedabad to Kutch
Distance: 400 km
Time taken: 7 hours
Travel Advice: Kutch is a land of contrasts. A memorable drive from Ahmedabad to the town will give you a chance to discover the Rann of Kutch, a Wild Ass Sanctuary and precious local handicrafts.
Route: Ahmedabad – Viramgam – Dhrangadhra – Halvad – Lakadia – Bhachau – Bhuj
Travel tip: Do visit Hodko village in Kutch to shop for some local handicrafts.

Source
9. Mumbai to Tarkarli
Distance: 535 km
Time taken: 9 hours
Travel Advice: One of the few hidden gems in Maharashtra, Tarkarli is a beach paradise. Clear waters and clean and untouched beaches, there aren't many tourists here and you can lounge at the beach without being disturbed by pesky hawkers. Take the NH 17 from Mumbai. At Kasal, take the SH 108 to reach Tarkarli. The route is scenic and worth the long drive.
Route: Mumbai – Lonavala – Kolhapur – Gaganbavada – Kasal – Malvan – Tarkarli
Travel tip: Scuba dive or snorkel in the clear blue sea before you leave.

Source
10. Bangalore to Munnar
Distance: 476 km
Time taken: 10 hours
Travel Advice: The popularity of Munnar as the most favored summer tourist spot dates back to the colonial days. Let the wheels roll through smooth roads; for most part of it except for a few places in the ghat section. You have enough and more places keep you hunger away.
Route: Bangalore – Hosur- Krishnagiri – Dharmapuri – Salem – Perundurai – Kangeyam – Dharapuram – Udumalaipet – Marayoor – Munnar
Travel tip: This is a no-cell-phone-coverage zone! Be prepared to stay disconnected.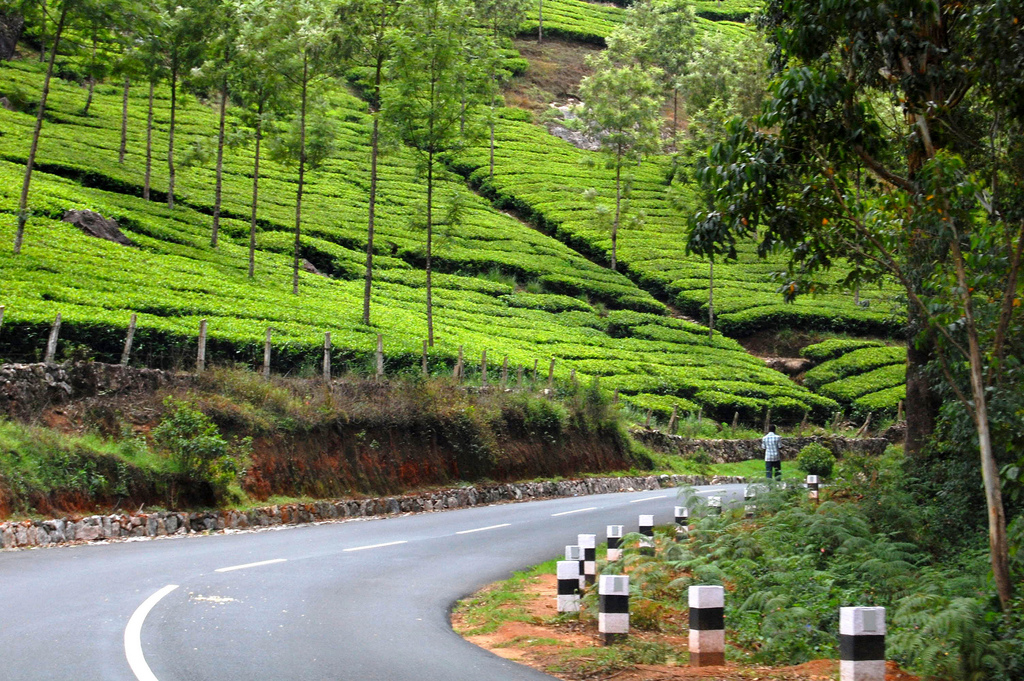 Source

11. Delhi to Jaipur
Distance: 275 km
Time taken: 5 hours
Travel Advice: Board on this road trip to be overwhelmed with a mix of culture, heritage and wildlife. Visit Agra for the Taj Mahal, Ranthambore for spotting the tiger, and Jaipur for its exquisite heritage structures and palaces.
Route: Delhi – Agra – Fatehpur Sikri – Jaipur
Travel tip: It's the Golden Triangle and the roads are definitely good. Before approaching Jaipur, on NH 11 visit the Sharma Dhaba for some mouth-watering Rajasthani food.

Source
12. Hyderabad to Kannur
Distance: 897 km
Time taken: 14 hours
Travel Advice: Craving for a long drive ride? Take a break on calm, more like private beaches of Kannur. There are plenty of fuel stations throughout the journey and you can taste some of the best local cuisines along the highway. The beef biryani is to die for.
Route: Hyderabad – Shamshabad – Shadnagar – Kurnool – Gooty – Anantpur – Penukonda – Bagepalli – Chikballapur – Devanahalli
Travel Tip: The bumpy roads at Virajpet can be avoided if you take the road via Coorg. You will take longer to reach Kannur.

Source
13. Chennai to Pondicherry
Distance:160 km via ECR
Time taken: 3 hours
Travel Advice: Breathe in the architecture and the French culture. The route to Pondicherry is among the best drives one can get off Chennai. Look out for the huge salt making set-up somewhere 50-60 km from Chennai. The curvy roads will surely excite the riders but at some points it is curvaceous to the point of being risky.
Travel Tip: Tank up at Pondicherry and some save money on fuel!

Source
14. Kolkata to Digha
Distance: 180 km Time taken: 3 hours
Travel Advice: A perfect short trip this summer! Digha's beaches, sea food and its laid back lifestyle is just what you need from that holiday you have been waiting for.
Route: Kolkata – Vidyasagar Setu – Kolaghat – Nimtouri – Bajkul – Kanthi – Digha
Travel tip: Start really early from Kolkata, preferably at 5, or leave after 12 pm, to avoid traffic jams. Ideally, leave early, reach Kolaghat by 7.30 for a hearty breakfast.

Source
15. Delhi to Dehradun
Distance: 255 km
Time taken: 5 hours
Travel Advice: Cruise on the NH-58 and pass idyllic towns and villages to reach Dehradun from Delhi. Great places to escape the summer heat of Delhi, at Dehradun, let your hair loose and relax or indulge in trekking, hiking and skiing.
Route: Delhi – Meerut – Muzaffarnagar – Sahranpur- Dehradun
Travel tip: The route is prone to regular traffic jams


Source
16. Darjeeling to Pelling
Distance: 110 km
Time taken: 3 hours
Travel advice : This is a trip you should take just to experience the journey. Pass through gorgeous valleys and mountains as you head towards Pelling from Darjeeling.
Route: Darjeeling – Kalimpong – Manpur – Jorethang – Geyzing – Pelling
Travel tip: Do check weather updates before embarking on the road trip as the route is prone to blockages due to harsh weather conditions.

Source
17. Kolkata to Puri
Distance: 500 km
Time taken: 11 hours
Travel Advice: To the land of beaches and the Jagannath Temple, the drive from Kolkata to Puri is less explored but worth the drive. Travellers can discover many smaller towns on the way including Kuliana and Basinga, which are otherwise, not popular on the tourist map.
Route: Kolkata – Kolaghat – Panskura – Kharagpur – Kuliana – Betnoti – Basinga – Balasore – Bhadrakh – Cuttack – Pipli – Puri
Travel tip: The road conditions are usually not great between Balasore and Bhadrakh. Try and cover the stretch during the day.

Source
18. Delhi to Leh
Distance: 990 km
Time taken: 3 days
Travel Advice: The road is open for traffic from June to September. Whether you travel by car or by bike, the ride is spectacular. The passes of Barlacha La, Rohtang Pass, the rivers Beas and Chandra, and a beautiful landscape will greet you. Throughout the route popular stops include Sarchu and Keylong.
Route: Delhi – Chandigarh – Mandi – Kullu – Manali – Rohtang La – Kokhsar – Tandi – Keylong – Darcha – Sarchu – Pang – Upshi – Leh
Travel tip: Make sure you fill up your tank at Tandi as the next petrol pump on the route is 365 km away. As the altitude increases after Sarcha, the road condition worsens. Make sure you are geared with all travel essentials including rain gear, woolens and food.

Source
19. Goa to Udupi
Distance: 301.5 Km
Time taken: 6 hours
Travel Advice: Start at Karwar, an ancient town renowned for its seafood. Further, on the Gokarna stretch; stop off at the beautiful Om Beach. For the night, park yourself at the Turtle Bay Resort near Kundapura. Next, drive along NH-66 that runs along Maravanthe beach and the Suparnika river, creating a spectacular visual effect.
Travel Tip: near Udupi, explore the century-old Kapu light- house and the St. Mary's Islands, where Vasco da Gama landed in 1498.

Source
20. Kutch to Mumbai
Distance: 920.7 Km
Travel Time: 14 h 2 min
Travel Advice: Start at Bhuj, famous for ruins from the Harappa civilisation, before driving to Ahmedabad, Gujarat's art and culture hub. Next is Vadodra, home to the Lakshmi Vilas Palace, which is four times the size of Buckingham Palace. Enjoy the coastal vibe as you pass through Bharuch, Surat, and Valsad.
Travel Tip: Once in Maharashtra, quit the highway to explore coastal towns like Bordi and Dahanu before hitting Mumbai.

Source
21. Dehradun to Nainital
Distance: 273km
Travel Time: 6 hours
Travel Advice: Get your adrenaline kick with all the turn and twists in the highway and upon arriving at the destination treat yourself with the magical views of Nainital.
Route: Take the Bazpur – Kaladungi road either via Haldwani or to Nainital direct. Although Kaladungi to Nainital drive is isolated. Be careful and don't take the bypass from Najibabad, else you might land in Bijnor.

Source
22. Srinagar to Leh, Zoji La Pass
Distance: 417km Travel Time 8 h
Travel Route: National Highway 1D (NH 1D), also known as Srinagar-Leh Highway, is a National Highway entirely within the state of Jammu & Kashmir in North India that connects Srinagar to Leh in Ladakh
Travel Tip: Witness the mesmeric hills, magical mountains and the pictorial valley of Frass, Kargil and lot more during this road trip.

Source
Road trips aren't measured by mile markers, but by moments. Take time out of your busy schedules to do some of these at least once in your life. Youll be amazed at how liberating an experience it is!
Add a Comment
comments