"Jyam sasta mate khoraka khaya"

The above is what I searched on Google and I found no good list that can satisfy the hunger pangs of a youngster in Ahmedabad, who is low on cash.
So I researched and thought I will share this list with you, which may be handy for your pocket and your taste buds!
1. Chai Wai
Location: Shivranjani Cross Road
Cost for Eating: Rs. 100/person
Must Have Food: I loved the Ginger Tea and Grilled Cheese Sandwich
Source: xplorecity.in
2. Brewberry's
Location: Opposite National Handloom, Law Garden
Cost of Eating: Rs. 150
Must Have: Their Veg Masala Maggie and Cold Coffee is perfect to sit down with and relax!
Source: Zomato.com
3. TGB Cafe n Bakery
Location: Commerce Six Road, Navrangpura
Cost: Rs. 150
Best Thing to Eat: The variety of Puffs and my all time favorite is the Hot Chocolate Barbeque.
yahaan jaake mojh padi gai
Source: ahmedabadlife.com
4. Shakti-The Sandwich Shop
Firstly, what a name-10 points for that.
Location: Mansi Circle, Bodakdev
Cost to Eat: Rs. 150/person
Must Have: Mexican and cheesy ahmedabadi masala sandwich is the best I have had
Source: creamcentre.com
5. La Bella
Location: Behind Preyas High School, Khanpur,
Cost: Rs. 100
Best Thing to Have: La Bella has grown to be synonymous with the best Goan food in Ahmedabad
Source: cityshor.com
6. Eat Repeat
Location: Ground Floor, Shop 2, Shyam Shukan, Airport Gandhinagar Highway
Cost: Rs. 150
Best Thing on The Menu: I am a big fan of the 'Family Pizza' that they serve here. Cost effective for the college crowd!
As the name says, one definitely wants to aavjo!
Source: imgkid.com
7. Arabian Nites Cafe
Location: Opposite Old Devashish School, Off S G Highway,
Cost: Rs. 200
What's Their USP: The Arabic theme and the loungy feel as well as the fact that they have awesome board games
Source: Zomato.com
8. Cafe Natrani
Location: Near Usmanpura Cross Road, Ashram Road
Cost: Rs 200
Best Thing About It: Very ethnic ambience, as it is located in the premises of a theatre. You'll always find a lot of young crowd here
Source: buzzintown.com
9. Qwiches
Location: Opposite Rajpath Club , S G Highway, Bodakdev
Cost: Rs. 150
Absolutely Must Have: They have a few new items- includeing the Qwisty and Flaps (try along with Fresh Lime Soda)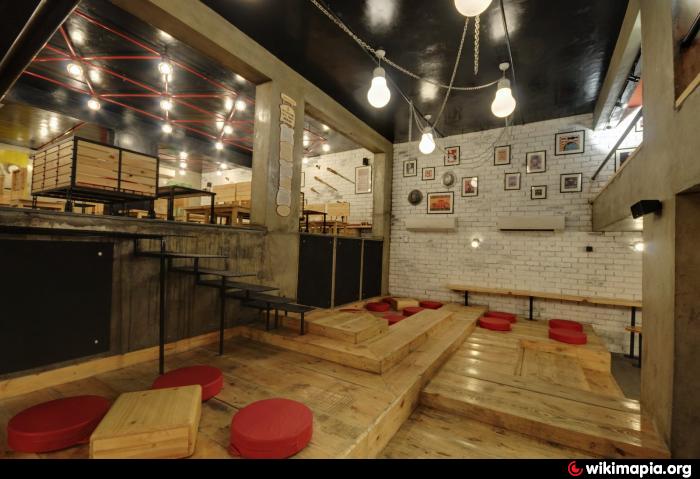 Source: wikimapia.org
10. Honest
Location: White House, Panchvati Circle, C G Road,
Cost: Rs. 200
What's Amazing: Just like its name, Honest genuinely serves the best pav bhaji and pulao. Do try the Chur-chur Naan platter-it's pretty unique and kickass
Source: petbhargaya.wordpress.com
11. Rasranjan
Location: Vijay Cross Road, Navrangpura
Cost: 125/person
What's The Best: If you want to have a fresh ghewar, or authentic bhujiya, or any Rajasthani snack-This is the place to come to!
Source: tripadvisor.in
12. Billu Thelewala
Location: Opposite Titanium Centre, 100 Ft Road , Satellite
Cost: Rs. 100
Best Item on The Menu: Ragda Patties, Dilli chaat, Raaj kachori, Paani puri. A taste of North India in Ahmedabad
Also-their logo is so perfect! Totally Street foodesque…
Source: cityshor.in
13. New Famous Samosa House
Location: Opposite St. Xaviers High School, Mirzapur Road
Cost: Rs. 100
Don't Leave Without Having: Meat samose and kebabs. Order them by the kilo. And not to mention they have to be paired with their sweetish bun.
Source: cityshorcom
14. Chaptik
Location: Near Keshav Baug, 132 Ring Road
Cost: 125 Rs.
Why I Loved This Place: The unlimited Punjabi thali which includes Chapatis, a paneer dish, one vegetable, dal fry, jeera rice, papad, pickle and butter milk. Students of IIMA will totally get what I mean!
Source: Zomato.com
If You Found Our List Interesting & Useful, We Would Love To Hear Back From You. If You Have Any Suggestion to This List-Even Better!
Add a Comment
comments