If it's your first date with someone or your 103rd with "the one", these date-worthy spots will really help kick-start a conversation and ensure you have a kick ass evening.
Avoid the whole "no, no, you choose the spot," take matters into your own hands and take control of how great your night could get!
Say Hello to Mumbai's Best Watering Holes
1. Colaba Social
Location: 24, Ground Floor, Glen Rose Building, Behind Taj Mahal Palace, Apollo Bunder, Colaba
Book A Table: 022 2282 8484 | Social Handle
What We Recommend: This is a place which is laid back and super casual. It's got a Bombay Velvet meets Facebook GenNext kinda feel to it. Go for the Tennessee chicken wings or their Fish Tacos
Why It's a Great Date Spot: It's always quite full and has really cool music which isn't loud so it's perfect to have a conversation yet have enough going around you so you are always entertained.
Price for 2: Around Rs. 2,000
2. The Barking Deer Brewpub
Location: Mathuradas Mill Compound, Senapati Bapat Marg, Lower Parel
Book a Table: 022 614 17400 | Connect With them on FB
What We Recommend: An absolute must-must have is their flying pig beer.
Why It's a Great Date Spot: Mumbai's 1st micro brewery, this place is a sure shot hit because its got a crazy energy flowing as its filled with post work peeps who want to literally party hard, work hard.
Price for 2: Around Rs. 3,000
3. The Sassy Spoon
Location: Ground Floor, Express Towers, Ramnath Goenka Marg, Nariman Point (It's in Bandra also)
Book A Table: 022 2288 8222
What We Recommend: They do very interesting spins on Italian food. Try the ricotta ravioli with walnut or go with the twin duck salad which has a hint of sweet ginger. This place is great for cocktails…
Why It's a Great Date Spot: A super nice place to take a girl out for a romantic dinner and a more classy evening if that's what your aiming for. Everything from the pink bicycle to the European-esque ambience will ensure you have a romantic evening.
Price for 2: Around Rs. 2,500
4. Cafe Zoe
Location: Mathuradas Mills Compound, NM Joshi Marg, Lower Parel
Book A Table: 02224902065
What We Recommend: Order the knock out LIIT and the lamb sliders..
Why It's A Great Date Spot: We stongly recommend getting trashed here because their drinks are amazing and the LIIT is especially strong..This is the place to let loose and party hard. Cafe Zoe ensures that you can have a complete date- right from flirty conversations to mad dancing, this place is abuzz and has a very fun crowd who are really friendly!
Price for 2: Around Rs. 2,000-4000 (depending on how high you wanna get!)
5. Aer
Location: Four Seasons Hotel, 114, E Moses Road, Worli
Book a Table: (22) 2481-8000
What We Recommend: Wouldn't recommend the food as it's a 5 star hotel and is obviously good but expensive. Order some wine/sangria and enjoy your evening with your lady getting buzzed slowly
Why It's A Great Date Spot: THE VIEW! 34th floor and an unmatched panoramic view of Mumbai from atop. In the evenings, there's usually a cool breeze so this is a great place to take your date for an opportunity for just the 2 of you to really connect. You can enjoy hearing each others' stories away from the hustle-bustle and attention of your friends…
Price for 2: Around Rs. 4,000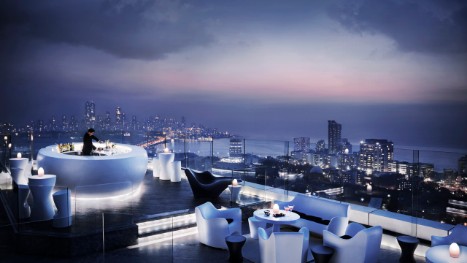 6. Smaaash
Location: Gate 4, Kamla Mills Compound, Pandurang Budhkar Marg,Lower Parel
Book a Table: 022 4914 3143
What We Recommend: The Virtual Cricket and Karting experience is simply amazing. Get bowled at by an almost real Shane Warne delivery. If you're a good sportsman, this may be a good way to wow your date 😉
Why It's a Great Date Spot: We think Smaaash deserves a mention in this list because it'll make for a unique and fun date. If you've been to a romantic dinner or already taken her to a place like Zoes, Smaaash will definitey mix it up! With its list of interesting games, this place is a totally "no filters" experience where you can really get to see the fun and crazy side in each of you!
Price for 2: Around Rs. 1,600
7. Toto's Garage
Location: 30, Lourdes Heaven, Pali Junction, Pali Hill
Book A Table: Just Walk In
What We Recommend: Get the beer and pizza. That simple.
Why It's a Great Date Spot: It's a no-nonsense garagey ambience place which is very pocket friendly and the go-to bar for hanging out after a busy day/week. Dress casual in a Tee and jeans and I would strongly recommend strolling aimlessly around the lanes of Pali Hill which is probably the most romantic place in Mumbai at night.. #getlostwithyourdate
Price for 2: Around Rs. 1,300
8. Bombay Bronx
Location: 10, Hub Town, Akriti Sky Bay, Bhulabhai Desai Road, Breach Candy
Book a Table: 07710044666
What We Recommend: Their signature cocktails Aam Panna and Gauva and in food go for their starters- Non Veg Dabba & corn cheese balls!
Why It's a Great Date Spot: Firstly, it's the hot and happening place in Mumbai for the "youth" to be seen and chill at so you're always going to have a great crowd. Secondly, they're ambience is quite quirky with a total Mumbai feel to it, everything from the menu to the name clearly indicates that the owner loves Mumbai. It's jam packed and has fairly loud but amazing music which will surely get your feet moving..Proximity to your date is guaranteed and will help you break the awkwardness barrier.. Would recommend it for a 3rd or 4th date!
Price for 2: Around Rs. 1,800
9. Tote on The Turf
Location: Mahalaxmi Race Course, Gate 5 & 6, Keshav Rao Khadye Marg,Mahalaxmi
Book a Table: 022 6157 7777
What We Recommend: Would suggest 2 things – Macaroons and their almond crunch ice cream. Set amidst a backdrop of stunning historic Mumbai buildings and the race course,
this is a perfect place for dessert
Why It's a Great Date Spot: It has parking (trust me, that's a big factor in Mumbai), it's got a really good vibe which is totally unique thanks to its amazing location..you almost feel like a VIP when entering this place. The crowd definitely adds to the "blue blood vibe" and makes your date feel like she's with an A-lister.
Price for 2: Around Rs. 2,200
Hope you have an amazing date at one of these places!
We'd love to hear what you thought of these places and it would be awesome if you could share your experiences and any bars you want to add to this list by commenting below!
Add a Comment
comments